42nd RED ROCK BALLOON RALLY
December 1st-3rd, 2023
The 42nd Annual Red Rock Balloon Rally will take place on December 1-3, 2023.  What began as a small but earnest effort by four individuals to share the unique flying challenge offered in the incredible red rock formations east of Gallup, New Mexico has grown into the one of the nation's largest balloon events with over 150 balloons.
ADMISSION IS FREE TO ALL EVENTS!
(with only a small $5.00 parking fee at events at Red Rock Park)
Presented by
RED ROCK BALLOON RALLY
EVENTS
The Balloon Rally schedule of events includes mass ascensions, balloon glows and competition with beautiful, hand crafted Native American arts and crafts.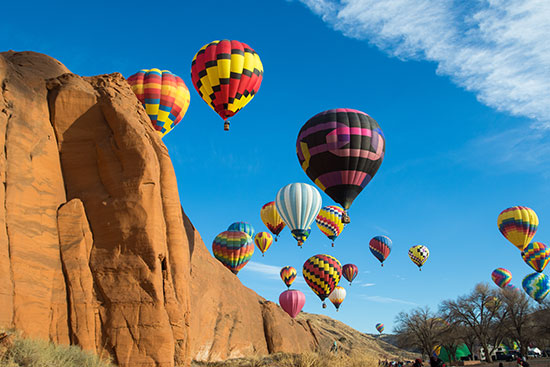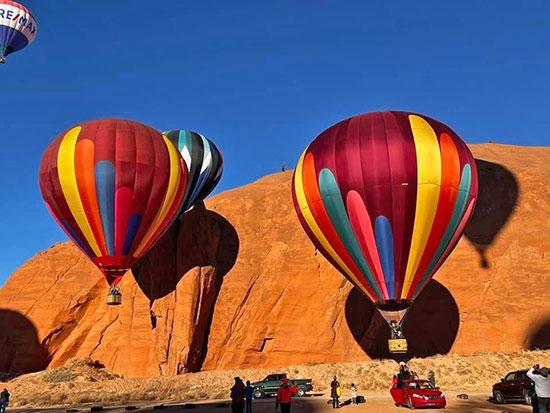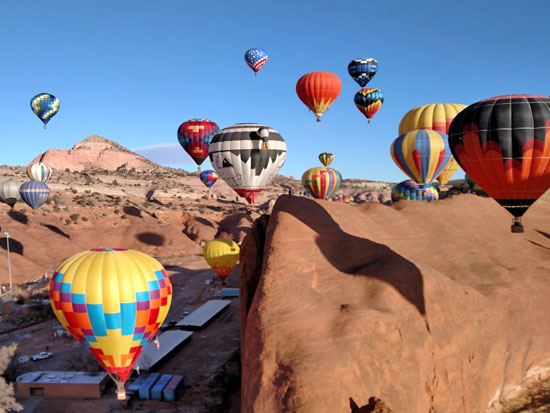 Thursday, November 30, 2023
6:00pm Butler's Office Supply Sponsor & Pilot Registration – Sammy C's Rock N' Sports Pub & Grille
Friday, December 1, 2023 – LAM Corporation Day
7:30am iHeart Media/Castle Furniture – Mass Ascension – Fox Run Golf Course & Red Rock Park
6:30pm Cedar & Ivy Real Estate – Glow in the Rocks – Red Rock Park
6:30pm McKinley County – Indian Dances – Red Rock Park
7:30pm Four Corners Welding and Gas Supply – Pilot Registration – Sammy C's Rock N' Sports Pub & Grille
Richardson Trading Post Pilot Appreciation Sponsor
Family Medicine Associates Platinum Sponsor
Saturday, December 2, 2023 – Supersmith Inc. Day
6:30am Amigo Automotive Group – Dawn Patrol – Red Rock Park
7:30am Rocket Cafe/Equipment Share – Mass Ascension – Red Rock Park
8:30am Pinnacle Bank/Rico Motor Co. – Pyramid Rock Run – Red Rock Park
6:30pm Gallup Eye Group/Rio West Mall – Balloominaria – Rio West Mall
Rico Auto Complex/Earl's Restaurant Pilot Pack Sponsor
Jerry's Cafe/Thunderbird Supply Company Platinum Sponsors
Sunday, December 3, 2023 – Sonic Drive In Day
6:30am Horizon Enterprises Plumbing & Heating – Dawn Patrol – Red Rock Park
7:30am Sammy C's Rock N' Sports Pub & Grille – Mass Ascension – Red Rock Park
10:00am New Mexico Gas Co. – Awards Brunch & Auction – Red Rock Park
Big Mike's Equipment Rental Platinum Sponsor
Perry Null Trading Company Pilot Appreciation Sponsor
BALLOONING IN GALLUP VIDEO
Host of "New Mexico True Television," Michael Newman, takes his first hot air balloon ride. And he couldn't have picked a more gorgeous setting than Red Rock Park outside of Gallup. Each December the park hosts the second largest balloon rally in North America, surpassed only by Albuquerque's October Balloon Fiesta. The flight and the scenery are breathtaking.
POWERED BY
GALLUP PROPANE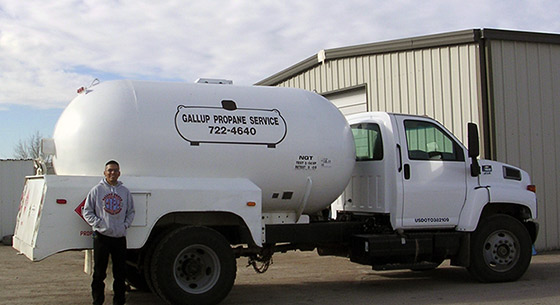 Gallup Propane, and our sister company Country Gas, have been providing propane and gas services and products to northwestern New Mexico, northeastern Arizona and southwestern Colorado for many years. We will deliver to your home or your business.